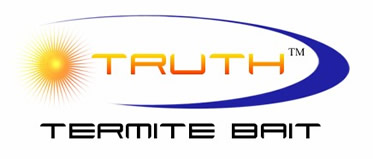 HomeGuard Distributors Announces PCO's Can Now Buy Direct and Save.
October 1, 2008
LARGO, FL. - HomeGuard Distributors, Inc. today announced that it will now be selling all of it's products direct to the industry. "This will save PCO's money at a time it is greatly needed", stated HomeGuard Vice President, Craig Gordon. " This process will cut out the middle-men and allow us to pass the savings on to our customers". To purchase direct from HomeGuard, Please call us at (727) 595-3502.
HomeGuard's Truth Termite Bait Now Available in Different Sizes.
Sept. 1, 2008
LARGO, FL.- HomeGuard Distributors, Inc. today announced that it has begun production of a 140 gram version of their Truth Termite Bait. This new size can be used to retrofit some of the existing termite monitors on the market, including the Advance termite monitors. The bait matrix will be the same as their current 190 gram and 1600 gram Truth Bait Cartridges and contain the same percent of active ingredient. (Diflubenzuron at .25%) The new bait size is available through the company's website, www.homeguarddistributors.com. For more information, contact them at (727) 595-3502.
Advance is a trademark of Whitmire Micro-Gen Laboratories, Inc.
HomeGuard's Truth Termite Bait is for use in the HomeGuard Termite Monitors or any other in ground monitor, where applicable.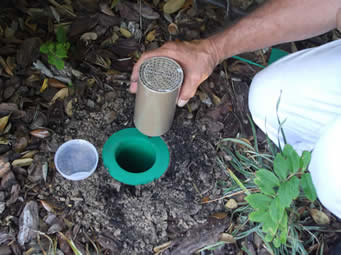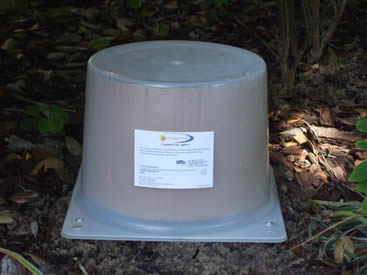 Truth Termite Bait (190grams) Being installed Truth Termite Bait - New Above-Ground 1600gram Bait
Contact: Craig Gordon
HomeGuard Vice President
727-595-3502
<![if !supportEmptyParas]> <![endif]>
March 7, 2007
<![if !supportEmptyParas]> <![endif]>
LARGO, FLA.- HomeGuard Distributors, Inc. today announced that the Environmental Protection Agency (EPA) has granted registration of the company's new Termite Baiting System.
HomeGuard's new Termite Baiting System, that will be called Truth, is designed to work hand-in-hand with the company's Subterranean Termite Monitors that were launched earlier by HomeGuard or any in ground termite baiting station.
HomeGuard announced that the active ingredient for the new baiting system will be diflubenzuron at 0.25 percent.
At the same time, HomeGuard also announced that it will use the EPA registration for the company's new, large above-ground Termite Baiting System that will make use of approximately two pounds of bait matrix, containing diflubenzuron at 0.25 percent, to halt termite colonies. To view label click here
"We now have a unique, patented termite baiting system where the station is roughly the size of the ones currently on the market," stated HomeGuard President Glenn Gordon. "In addition, we have the separately patented above-ground system that pest control operators (PCOs) can use for a single bait application.
"Our large above-ground Termite Baiting System is the most economical way to control termite colonies, especially when you take into consideration labor costs," Gordon said.
While the HomeGuard Truth Termite Baiting System makes use of diflubenzuron as its active ingredient, that is where the similarity to other termite baiting systems on the market today ends.
HomeGuard's Termite Baiting System will cast the same exaggerated thermal shadow as the patented and proven HomeGuard Termite Monitors. This exaggerated thermal shadow has proven to attract 1,000s of termites, and in some cases, ten of thousands of termites, to both the HomeGuard Termite Monitors and the new HomeGuard Termite Baiting System. This has proven to be extremely popular with the PCOs who have tested it.
HomeGuard's corrugated cellulose matrix was extensively tested by and exclusively manufactured by HomeGuard Distributors, Inc.
HomeGuard's above-ground baiting stations will make use of the same system.
Looking at both the new below-ground baiting system and the new above-ground system, Gordon said, "Our systems will completely eliminate the problems that come with termite baiting and colony elimination.
"We will make it so there won't be a difficult choice for PCOs to switch over to our products," Gordon stated. "Our stations will be the most affordable and the most effective termite stations on the market, while also being the easiest to use.
"The HomeGuard Subterranean Termite Baiting System offers quicker termite hits and significantly more termites in the stations, which is the key to true colony elimination," he continued. "There isn't anything like these systems on the market today."
HomeGuard Distributors, which has the exclusive rights to this patented science, was founded in 2000. The company's main focus is on developing and producing highly effective products that are PCO friendly and available at affordable prices. The HomeGuard staff consists of some of the top minds in the pest control industry. HomeGuard Distributors can be reached at 1-727-595-3502 and homeguarddistributors.com.